JOKERCARD
Since

summer 2012

!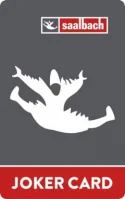 Since we are a partner business you automatically receive the Saalbach-Hinterglemm Joker Card at our Appartements Saalbachblick, when booking your stay in the summer - your trump for the perfect summer holiday.

The Saalbach-Hinterglemm JOKER CARD is the trump for a perfect summer holiday and provides free access to many attractions.





The following benefits are included in the Saalbach-Hinterglemm Joker Card:
Unlimited use of up to 6 gondolas in Saalbach Hinterglemm
2 x daily free bike transport at any gondola lift in Saalbach Hinterglemm or Leogang
Instructional Walk

More information under: www.saalbach.com

JOKER CARDS are issued in the summer from May to October and can only be used during this period.